About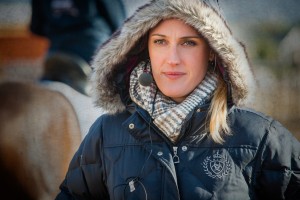 Verena's riding career began in Germany at the age of 5, when she started vaulting on a gentle Palomino owned by a family friend. This taught her the importance of balance and coordination, and opened the door to what Verena would later learn to be dressage.  It didn't take long for her to grow a deep kinship to horses which would take her on a journey of a lifetime.
In 1995 after living and riding in Canada for 6 years, Verena was introduced to Grand Prix trainer and rider Wendy Christoff.  It was at Wendy's facility that Verena first sat on an imported warmblood and began to learn the fundamentals of the sport she would later pursue a career in.  Wendy took Verena under her wing and introduced her to the elements of dressage.  It was here her love of horses and journey to "Master the Art" of dressage began.
Wendy regularly trained with Olympic rider/trainer and Chef d'Equipe of the Dutch Olympic team Bert Rutten.  After watching him clinic in 2002, Verena asked for a position at his training and breeding facility in the Netherlands as a working student.  Through her unmatched work ethic and determination Verena gradually worked her way up to the top position of first rider and stable manager at the Rutten facility.   Her exposure to European top sport riding from the inside was an opportunity of a lifetime which fueled her own drive to become the the best rider she can be.  Which meant countless hours of practice to learn everything she could about the sport.  From breaking horses in the spring to riding 15 horses a day in the summers, the time spent in the Netherlands further strengthened her craft and built the foundation of horsemanship she has built upon over the course of the last 20 years.
The work paid off, and Verena blossomed into an exceptional rider by receiving the best instruction and guidance by one of the world's top professionals and spending countless hours on hundreds of different horses.  She competed at many national competitions, including showing four of Mr. Rutten's four-year olds in The Pavo Cup (young horse selection trials) in the Netherlands.
"To truly absorb the classical techniques, you have to immerse yourself in it every day. I had the honor of working for and learning from one of the world's most renowned dressage riders. I sat in the ménage day in and day out–even when I was too exhausted to sit–I would persevere and devoured every last morsel of information. You learn a lot from watching and listening! I learned the language (Dutch) so that I could really understand the dialogue between all the great riders that would come through the facility and Mr. Rutten. It was the opportunity of a lifetime, and I wasn't going to let that go to waste."
In 2006, Verena accepted a sponsorship from HS Dutch Horses, Inc. and relocated to Redlands, CA to help build an Olympic-level training facility as chief trainer and facility manager. She took Urial from 2nd level through PSG, achieving many high scores. At the 2009 Championships, Verena won the warm-up class and finished 10th overall, a major accomplishment for a young team.
In 2009, Verena decided to relocate to Westlake Village to start her own  business: VS Dressage Inc. She has had many successes at FEI level,  competing and coaching through Grand Prix. In 2011 she coached two riders who qualified for the Pan American Games in Guadalajara, Mexico. Representing Puerto Rico, her students achieved one of the highest levels of competition in the Americas.  One of Verena's greatest strength is her ability to communicate what the rider is feeling and how to work through to get the desired feel.  A good dressage trainer not only needs to be able to ride, but must be able to teach from the ground and talk through their clients challenges.   Coaching her clients to the Pan American Games was a crowning achievement and a sound confirmation of being successful both in and out of the saddle as a trainer.
Verena trains with three time Olympian Juan Matute when he clinics in California and has since the early 2000's. She began working with him at his facility in Madrid, Spain while she was still based in Europe.
"Juan and I have the same intense passion for horses. He is a true master of in hand work and has a trained eye for quality. I have sat and watched him with countless different horses, and every single one dances for him. I have never met anyone with such an ability to teach Passage and Piaffe. He also keeps it light, elastic and fun. The horses simply love him."
Verena also trains with Olympian  Guenter Seidel on a regular basis in Rancho santa fe.
"Guenter's reputation speaks for itself, he is a living legend and I am so blessed to be able to learn from such a decorated rider. His attention to detail is incredible and hes a phenomenal teacher. I could watch him ride all day long. Effortless and simply beautiful to watch"
In 2013, Verena received a sponsorship from Beverly Gepfer of Rancho Santa Fe, CA. to train and ride her mount Ulliman.  She moved her business to San Marcos, CA. with her husband and successfully competed throughout 2014.  She also was chosen by the Utah Dressage Federation to train the next generation of young riders and clinics their regularly.
Verena has had the great privilege to train with Charlotte Dujardin both partaking in  SH Productions Symposium in October 2016 and training with her privately whenever she is in California.
"As a rider , trainer and coach it is vital to constantly sharpen your edge. The learning never ends, and I'm beyond blessed to be able to ride with the best in the world. Not only has Charlotte broken every record to date, she is also a tremendous teacher. She keeps it so simple , and truly gets the BEST from both the horse and the rider. She is a true talent in every form"
Currently Verena trains students up to Grand Prix level and competes for VS Dressage Inc. at Dove Hollow Dressage Center  in Encinitas, CA. She loves teaching and regularly clinics all over the US, Puerto Rico and Canada.